RAAF Flight Lieutenant Raymond Arnold GRAETZ [MC]
RAAF 417175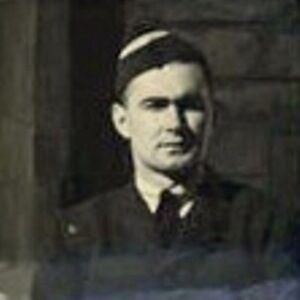 Raymond Arnold Graetz was born on the 10 December 1917 in Mount Pleasant, South Australia. His father was Bernhardt Henrich Graetz. Ray enlisted in the RAAF on the 31 January 1942 in Adelaide South Australia. He was 24 years old. Prior to enlistment Ray's occupation was Aircraft Assembly and Production.
On the 14th of April 1942 Ray began his training at No. 4 Initial Training School, Mount Breckan Victor Harbour, South Australia. Later in the month Ray was posted to No. 1 Wireless Air Gunners School, Ballarat. It was here that Ray moved in and out of courses 25,30 33. On the 29 January 1943 Ray passed his Wireless Course and went to No.3 BAGS [Bombing Air Gunners School] West Sale, Victoria to complete the Gunnery Course. He graduated on the 3 March 1943 as a Pilot Officer. On the 29 June Ray completed No. 12 Beaufort Course at No. 1 OTU [Operational Training Unit] Nhill, Victoria and in July the Air Gunners Sighting Course at AGS. In August 1943 he completed the Beaufort Torpedo Course at 6 OTU, Nowra NSW. In September 1943 Ray was commissioned as a Flying Officer serving with 100 Squadron.
No. 100 Squadron is a Royal Australian Air Force (RAAF) historic aircraft display squadron. It was originally formed as a bomber and maritime patrol squadron that operated during World War II. Raised in early 1942 from the remnants of a British unit that had been destroyed in Malaya, the squadron flew Bristol Beauforts from bases in Queensland and New Guinea, undertaking torpedo-and level bombing sorties against Japanese targets in the Pacific theatre. Following the conclusion of hostilities, the squadron was disbanded in August 1946. It was reformed as the Air Force Heritage Squadron in January 2021 to operate airworthy warbirds.
From Wikipedia:
That fateful day – 20 MAY 1944
While on a bombing mission at Wewak New Guinea on 20 May 1944, Beaufort A9-571 [with eight other Beauforts] was shot down by enemy ground fire and ditched. Two crew members were killed by ground fire after the ditching, one was last seen swimming away to sea and the fourth crew members was rescued by a USN patrol boat.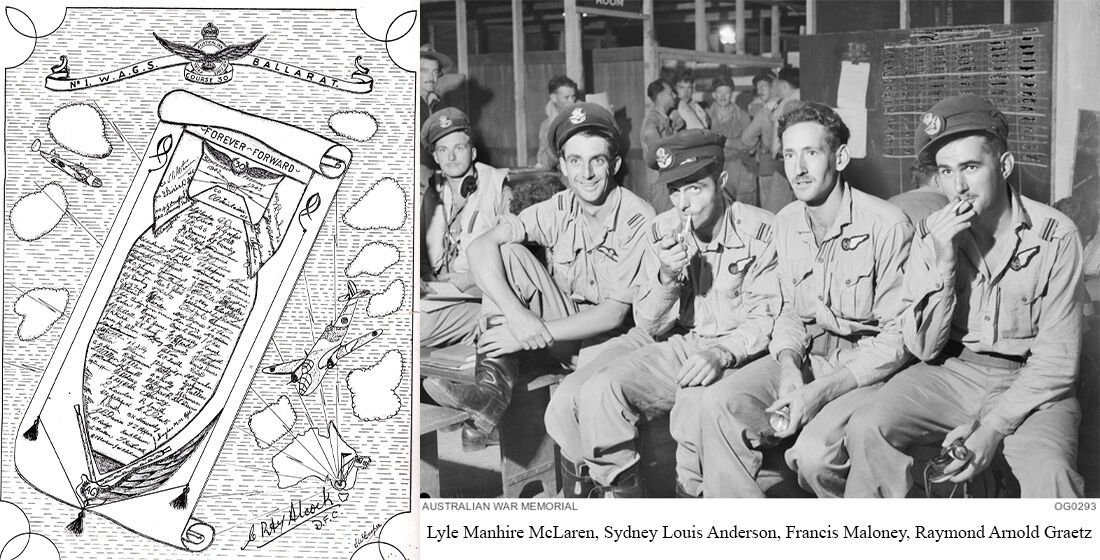 The crew members of A9-571 were:
Flying Officer Lyle Manhire McLaren (416874) (Pilot) Killed by ground fire.
Flying Officer Sydney Louis Anderson (410192) (Navigator) Killed by ground fire.
Flight Sergeant Francis Maloney (410995) (Wireless Air Gunner) Last seen swimming away, lost at sea.
Flying Officer Raymond Arnold Graetz MC (417175) (Wireless Air Gunner) Rescued. Discharged from the RAAF: 18 September 1946.
Flying Officer Graetz who survived the crash, evaded capture behind enemy lines for 10 days, was rescued by a PT boat and returned safely to his unit on 30 May 1944. For his exploits he was awarded the Military Cross for his 'outstanding courage, initiative and complete disregard for his own safety. His devotion to duty is worthy of the highest praise.' Ray was one of only seven awarded the Military Cross to RAAF servicemen during WW2.
In a later report he stated:
"We dropped our bombs about 30 miles west of But. Going home we strafed. But mission from about 100 feet, the port engine was hit, and Aircraft filled with black smoke. Aircraft ditched 20 yards from beach. Nobody injured. The Japanese opened up with several machine guns from the rising ground behind But mission. The first burst of about 3 seconds was very accurate, the navigator Flying Officer Anderson being killed. The second burst of fire holed the dinghy which started to fill with water. The remaining three men jumped and started to swim alongside the dinghy and tow it to seaward when the third burst of fire collapsed the dinghy completely and killed the pilot (Flying Officer McLaren). I was hit and the lobe of my right ear was shot away. I started to swim west away from the fire. I last saw Flight Sergeant Moloney swimming seawards."
Reference – Aviation Museum
Survival and rescue
Ray Graetz finally scrambled ashore where a solitary Japanese soldier apparently didn't see him as he crawled into the scrub. Feeling weak from the loss of blood caused by the wound to his ear, he crawled under a bush and just lay there, eventually falling asleep.
All Allied airmen had been warned about the dangers they faced if shot down and captured by the Japanese. Tokyo Rose [the Japanese propaganda broadcaster] had on numerous occasions warned that any airmen captured would have the muscles in their legs cut so they could not walk and would be left to die a slow and horrible death in the jungle.
It was with this thought in mind that Ray Graetz began an extraordinary eight-day episode during which he survived numerous encounters with Japanese troops by disguising himself as a disgruntled Japanese soldier. He went without food for over a week, but still managed to sabotage various Japanese weapons and trucks.
Ray Graetz was eventually rescued by US patrol boats 128 and 131, with Lt William Stewart and Ensign Gregory Azarigian risking their lives by disregarding sniper fire to swim in and snatch him to safety.
The day after he was attended to by the medico on the mother boat, F/O Graetz was returned to his RAAF base where he was interviewed.
"I was able to pinpoint where I had seen supplies being unloaded from a Japanese submarine and was able to identify the location of groups of Japanese on river tributaries, where they sheltered under the overhanging jungle from Allied aircraft.
This detailed information of every moment of my time in the area was invaluable to the Army for the tactical planning of their assault on the Japanese-held area."
Reference - ANZAC PORTAL
1946 Victory march in London

On the 18 April 1946 Flight Lieutenant Graetz was selected as part of the RAAF Victory March Contingent to be held in London England. Two hundred and fifty Australian men and women were chosen from all the services to march. They were chosen on particular criteria, one of which being reciprocates of Gallantry Citations. Ray aptly fitted this criteria being awarded the Military Cross. Ray embarked from Port Melbourne on HMAS 'Shropshire' and disembarked in Portsmouth, England on the 31 April 1946.
The parade was in front of the Royal Family and other WW2 dignitaries and was to celebrate the triumph of the Allied forces in the Second World War.
"The day of the parade came on 8 June and crowds of more than five million people came out to watch the marchers. After the parade, many in the contingent took the chance to tour Britain and Europe, and a small group was specially selected to tour Germany. The contingent finally left Europe in early July, stopping at a number of ports on the way home. The Australian Victory contingent was ostensibly a chance for Australians to celebrate their involvement in the victory of the Allied powers over their Axis enemies. However, the contingent's journey also functioned as a reinforcement of Australia's solidarity with the British Empire."
Reference - Victory contingent, 1946 By Anton Donohoe-Marques Victory
Mayday! by Ray Graetz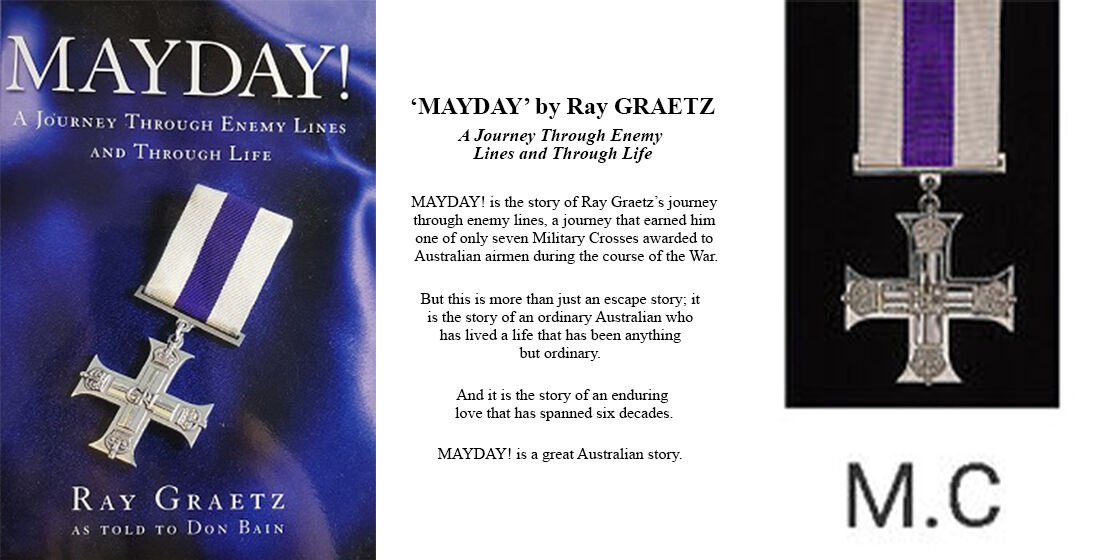 Flight Lieutenant Raymond Arnold GRAETZ MC returned to Melbourne on the 22 June 1946 and was discharged from the RAAF on the 18 September 1946. Ray was to later retell his story to Don Bain with the book being published in 2005.
Title: Mayday! A Journey Through Enemy Lines and Through Life
Author: Graetz, Ray
Comments: MAYDAY! is the story of Ray Graetz's journey through enemy lines, a journey that earned him one of only seven Military Crosses awarded to Australian airmen during the course of the War.
But this is more than just an escape story; it is the story of an ordinary Australian who has lived a life that has been anything but ordinary.
And it is the story of an enduring love that has spanned six decades. MAYDAY! is a great Australian story.
Courtesy: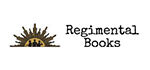 LINKS:
Aviation Heritage Museum - McLAREN Lyle Manhire 416874
Anzac Portal - Ray survived eight days on the run from the Japanese
Australian War Memorial - Victory contingent, 1946
Women's Auxillary Australian Air Force - Nowra Part 3
Royal Australian Armed Forces contingent leaves Australia for Victory March in Britain (1946)